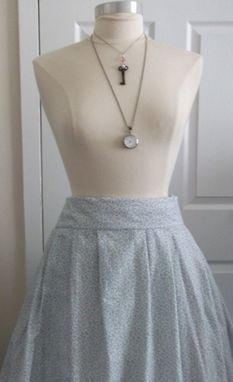 Sample skirt is shown in printed, 100% quilting cotton.

Assistance is available to select a period-feeling or period-correct fabric such as linen or homespun. Please be advised that prices will vary according to fabric selected.

This skirt is pleated to control fullness rather than gathered. It has a wide waist band, but this can be altered to appear smaller.

Closure is with placket & buttons. Drawstring will also work for a field skirt. Close to period-correct buttons are available on a limited basis.

Interior can be lined in plain cotton or left as a single layer for the Summer season.

Seams can be French, Flat-felled, or machine over-cast as a finish.
All of these seam finishes are safe for machine washing or hand-washing in the field.

Sample is shown with a large crinoline, but no hoop.