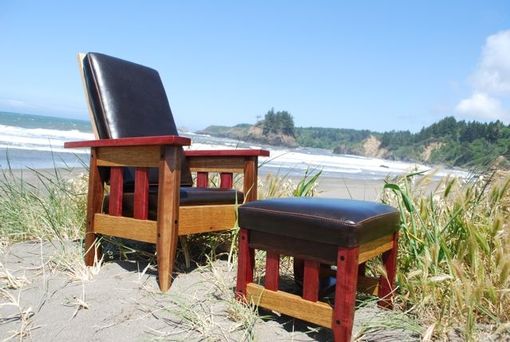 A children's chair that will bring smiles to faces for generations. It's a pure delight to watch children fully relaxed on a kid friendly mini Morris Chair. This piece has the look of fun with the feel of pure comfort. The chair and ottoman has a kid friendly finish of linseed oil and shellac. The Classic Rose is a chair that any kid would be fortunate to relax in. I've found that kids absolutely love adult furniture fit for a kid!

Material Used: (Curly) Purple Heart, Walnut, & White (Quarter-Sawn) Oak with Ebony plugs.
Upholstery Color: Java
Reclining Positions: 3
Production Time: 6-16 weeks
Handcrafted & Designed by Isaac Stelly
Functional furniture for life!

Dimensions: 17.5"w 24"d 28.5h