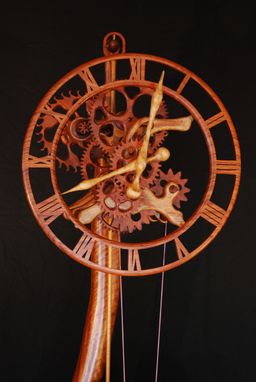 Gary spends a great deal of time selecting contrasting yet complementary woods
for each clock He has seven different styles in his inventory right now, however
always adding new styles as he becomes inspired by new ideas. By building with
different combination of wood makes each a truly unique piece of art. Most clocks
you see here are sold, please check on availability. Gary welcomes custom orders
with him selecting or the customer selecting available woods.

Taking over 400-500 hr. 9 to 12 weeks to make a single clock. Gears/Wheels are
laminated for stability and reliability. Every single piece is handcrafted from the
stand, clock frames the dial, weight and on and on finishing to every little detail.

Woods used- Dial: Bubinga, Gears/Wheels: Mahogany
Hands: Maple


Dimensions: Dial is 19 inches in dia.