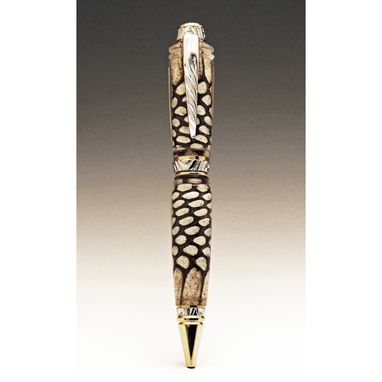 The Ultra Cigar pen is a two-tone more ornate version of the Cigar pen. The pen functions the same as the Cigar pen. It takes a Parker® of Visconti® Gel or ball point refill. Each pen comes in a gift box with product information.
The process I use in making the cast pens is first I glue the material, (snake skin, feathers, butterfly wings, etc.) to a brass barrel. I then place the barrels in a mold and cast with water clear polyester casting resin. Once cured I hand turn each pen and polish to a glass finish. Lastly, I assemble the pen parts to complete the pen.
For this one the main body is Cobra snakeskin turned sideways and the pen finish is chrome on gold plate.

Dimensions: 3/4" diameter by 5 3/4" Long