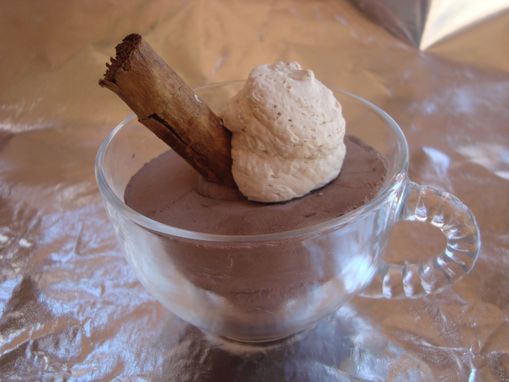 This adorable 2.5 oz Cocoa Canela Soap smells like a Mexican Hot Chocolate with a good dash of cinnamon. The soap slips easily out of the re-usable cup that it comes in. The "hot chocolate" and the "whipped cream" dollop on top are all soap. The cinnamon stick is purely ornamental and should be removed before use. The soap features skin loving olive oil, jojoba oil and shea butter and is colored with mineral colorants.

Our soaps are always paraben, phthalate, SLS and SLES free. In addition, this soap is vegan friendly and gluten free. MADE IN THE USA.

Ingredients: Saponified Oils of Palm, Coconut, Soybean, Water, Shea Butter, Olive Oil and Jojoba Oil. Cocoa Powder, Sodium Lactate, Skin-Safe Mineral Colorants and Fragrance. Embellishment: Cinnamon Stick - to be removed before use

WARNING: SOME INDIVIDUALS WITH NUT ALLERGIES MAY HAVE A REACTION TO SHEA BUTTER. CONTAINS COCOA POWDER - NOT FOR THOSE WITH CHOCOLATE ALLERGIES. NOT INTENDED FOR FACIAL USE. NOT EDIBLE . SUPERVISE CHILDREN TO ENSURE THEY DO NOT INGEST. DUE TO THE VANILLIN CONTENT IN MANY OF OUR FRAGRANCES YOUR SOAP MAY FADE OR TURN BROWN OVER TIME. THIS IN NO WAY AFFECTS THE QUALITY OF THE SOAP AND IS NOT CONSIDERED A DEFECT.