Coffee Table In Geaorge Nakashima Style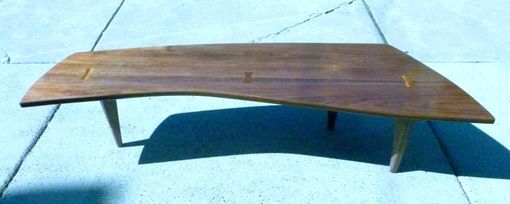 I was asked if I could make a simplified and smaller version of a 1958 Nakashima for Widdicomb Sundra table out of walnut with some bowties. This is what I came up with.

This table measures approximately 58" wide and ranges from 21" to 14" wide, stands 13" tall. I can make this table in different sizes and configurations to suit your needs and wants.

There are three legs, each is four side tapered and sculpted with files and a block plane to rounded circular feet. The legs are mortised completely through the rails to provide strength. The rails are pitched to the same angle for visual consistency - not that many will look at the legs but I do this anyway.

The top is splined and I included three English brown oak bowties which provide a very subtle and elegant look. The edges are formed with a block plane and spoke shaves into flares and bevels - wonderfully tactile. All of my work begs to be touched.

The entire table is finished with five coats of tung oil with a furniture paste wax top coat.