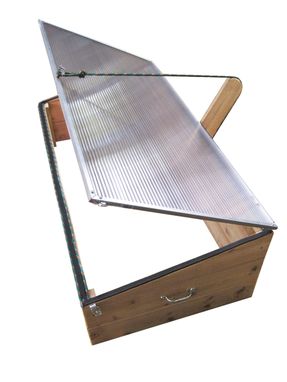 High Quality Cold Frames by Sunnyside Projects.
Made with Rot-Resistant Tongue and Groove Cedar, Rust-Free Aluminum, and Professional Double-Walled Greenhouse Panels.
Extend your Growing Season, and look good doing it!
Extremely Lightweight. Easy to Move to the areas of your garden that need extra protection from the coming cold.
Get a Big head start next spring! Grow well in to fall!

Benefits of a Sunnyside Projects Cold Frame:

Protects plants from cold weather. The 8mm double wall polycarbonate transparent top admits sunlight and prevents heat escape via convection that would otherwise occur, particularly at night. Essentially, a cold frame functions as a miniature greenhouse to extend the growing season.
They create microclimates that provide several degrees of air and soil temperature insulation, and shelter from wind. these characteristics allow plants to be started earlier in the spring, and to survive longer into the fall and winter. They are most often used for growing seedlings that are later transplanted into open ground, and can also be a permanent home to cold-hardy vegetables grown for autumn and winter harvest.
You can raise a huge variety of crops from seed through to maturity within the frame – so it's possible to have vegetable crops ahead of their normal season when they are extremely expensive to buy.
Some crops suitable for growing in a cold frame include lettuces, parsley, salad onions, spinach, radishes and turnips etc. One vegetable crop can occupy the whole of a cold frame or you can grow a combination of crops so that they mature in rotation – so you'll get a wide range of different vegetables throughout the year from one cold frame.

This gives it a high insulating value perfect for retaining soil warmth.
Dimensions: 2'x4', 4'x4', 4'x8'