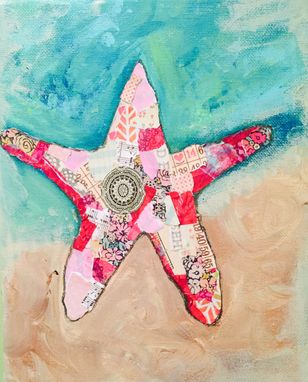 Pieces of hand made and recycled paper are combined to create almost any image. Shown here is a star fish which can be done in any color way or size. This piece is 16 x 20 and contains map pieces, gelli prints, acrylic paint, candy wrappers, color foil and pieces of calligraphy from abandoned projects.

Depending on where you would like to put this work, it can be done on solid board, canvas or paper. Each has its own merits. All are 'sealed' to allow dusting. Bathroom pieces must be done on board to prevent steam from damaging the work.

Send me a note with an idea and we will work together to create a one of a kind art work for your home or as a gift.