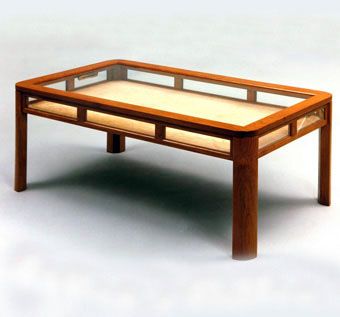 After making a much more traditional collector's table for a local client, I designed this table to market through the League of New Hampshire Craftsmen. I was thinking sets and also thinking there must be collectors out there who would want it. It has an accompanying end table covered in leather that is pictured on my site.

Although I liked the result the two that I made sat around; either because they were unsuited to the price scale of the League shops, or because there was a dearth of collectors. One criticism I heard was that they were "over designed". I don't know if that's fair, but in any case, I gave them to a niece and nephew as wedding presents and they started collections as a result.

I made one out of teak, and one out of walnut and used suede for the lining. Getting a piece of leather large enough to not have seams was a significant problem. I made the legs from split turnings and used offset mortise and tenon joints for all of the fenestration. The finish is tung oil. I shipped one of the end tables to someone in California. I use the others in my house.