Colorblock Pedestal/Trestle Table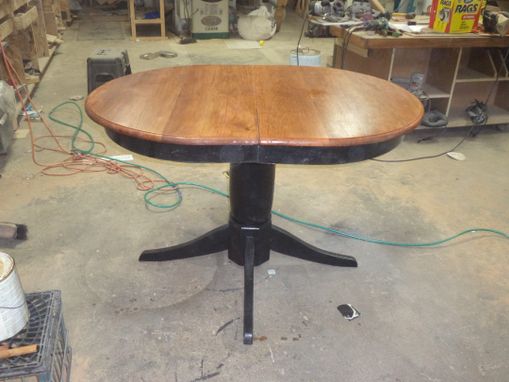 Here's the original request we received: Customer is looking for an oblong dining table. She would like it to mimic the one in the image provided. The table should be made of wood and painted black on the bottom of the table including the legs/base. It has 1 leaf that can be added when needed for additional seating.

Customer would like to stay closer to budget and is willing to be flexible on material (will consider pine/poplar). The base does not have to look exactly like the one in the image if it means increasing budget.

In addition to the table, she may also want a leaf (36" wide) to match.

Will you please price out (1) the table in pine, poplar, and cherry with a leaf and (2) a table the table in pine, poplar, and cherry without a leaf?

Customer would like this in 6 weeks.

If interested, would you please provide information as to:

1. Pricing—at what price would you be happy to make this?
2. Additional details, including any special consideration about materials, size, or method
3. Shipping costs to 63017
4. Estimated delivery (number of weeks from proposal acceptance)
5. Payment terms: Is 50% up front / 50% upon completion (i.e. 50/50) acceptable, or do you prefer to work 66/34?

Here are some details on the project from the maker: 48"x 36" table oblong with 12" leaf, base as in portfolio, top solid cherry stain of clients choice,, every thing but top painted black. Will send samples of stain and edge treatments for aprovel . Table to be delivered and placed inside house. Delivery will be in 4to5 weeks depending on how soon I can get center of pedestal back from the turners.
Made in Weeping Water, NE
All of our products are handmade
by expert makers.