Colorful And Contemporary Fused Glass Rondos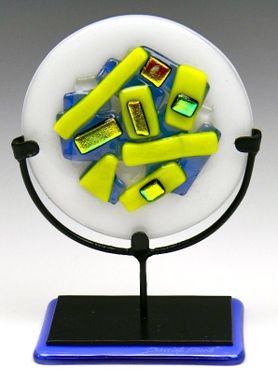 Floating Yellows With Gold Accents. Fused Glass Rondo. Randomly arranged pieces of transparent and opaque tack fused glass on a 4" circular white pre-fused glass "rondo". An oasis of calm contemplation to captivate the visual senses. Designed for the home or office.
The Rondo is a bright focus illuminating the beauty and charm of fused glass.
Each creation bears the artist's signature, engraved on the right side of the base.

Dimensions: Each Rondo is designed on a circular 4" prefused white ground with a circular welded metal frame attached to a 2" high stem rising from a metal plate affixed to a colorful 2 1/2" x 4" fused glass base. The total height of the work is 6".