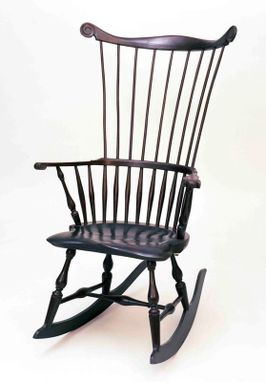 Windsor rocker made with red oak, white pine and hard maple.

The oak and maple are split from the log, rather than sawn, in order to maintain the strength of the fibers of the wood. The maple is then turned for the legs and arm posts. The oak is shaped on a shave horse. The arm and crest rail are steam bent and the spindles are kiln dried before final shaping. Before assembly volutes are carved in to the hand holds and crest rail.
The pine seat is shaped using a variety of tools unique to Windsor chair making - the adze, scorp and travisher.

Rockers (optional) are installed after assembly.