Customizable Hand Stamped 14k Gold-Fill 1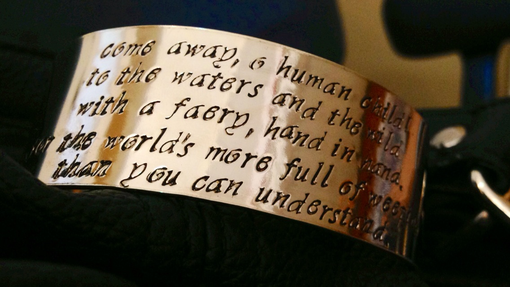 A gleaming 14k gold-fill 1" wide cuff, hand-stamped with a portion of WB Yeats' "The Stolen Child":

Come away, O human child
To the waters and the wild
With a faery hand in hand.
For the world's more full of weeping
than you can understand.

It is stamped in my 'script' font, and is adjustable to fit most wrists. This cuff is made from genuine 14 karat gold filled sheet, which I hand cut and form before stamping each letter individually, by hand. Because this is a handcrafted item, variations should be expected, and make each item uniquely yours.

I can customize this bracelet with your preferred quote; the list price includes up to 150 characters, which includes spaces and punctuation. This bracelet can also be made in sterling silver, brass, aluminum or copper - please contact me if you would like a different material.

Gold filled sheet is made by bonding genuine gold to a base metal 'core' (usually brass). Unlike plated items, which can wear away in a few years or less, gold filled items generally do not need re-finishing for several decades.