Commission Remembrance Painting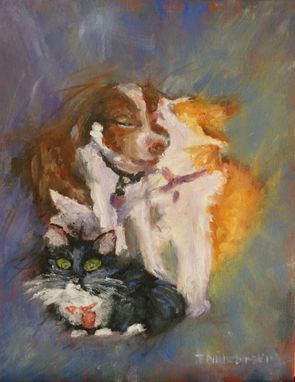 A client had contacted me about doing a remembrance piece for the pets she recently lost. She provided me with photos and wanted all three together as she remembered them.

She was open to the background, wanting only the pets to be the main focus. I kept the background colorful and happy, not to overpowering.

Being an animal lover myself I wanted everything to be perfect for her. I painted the piece is thin layers, slowly building up the thickness. Loving my oil paintings, she wanted oil on canvas. We kept the size at 11x14, therefore it was easy for her to put it anywhere she wanted.

I choose a frame for her to match the piece and delivered it personally to her. I met her other pets that she has, getting to know her buddies. She was very happy with the result, as were her dogs.
Dimensions: Width: 11"
Height: 14"
Depth: .75"
Frame with was 2"