Custom Commissioned Oil Painting ~ Dog "Luna"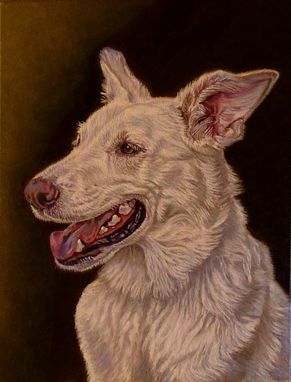 This oil on canvas portrait of "Luna", is an EXAMPLE portrait. (Not for sale). My paintings are all hand done using oil paint on canvas...they are not DIGITAL in any way.

~ This painting measures 14" x 18". (Actual size of the artwork)
~ My commissioned painting prices start at $150 (for a 9" x 12" with 1 subject) (Send me a direct message for prices of other sizes, or for one with 2 or more subjects)


More about this commissioned painting of "Luna"...

This painting, is one I donated as a gift certificate for the commission of a pet, to an animal shelter's auction for the rebuilding of their facility. It had tragically been lost in a terrible fire, along with the 16 cats that had been living there. The gift certifcate was given as a Christmas gift to her, from the mother of Luna's owner. Now, three years after the fire...the new shelter has risen from out of the ashes, and is once again providing a place for animals in need, until they find their forever homes.

Custom commissioned portraits are available in sizes such as:
11" x 14", 12" x 16", 14" x 18", 16" x 20", 18" x 24", 24" x 36",
Portraits start at $150 for a 9" x 12"...Contact me directly for pricing on other sizes.

COMMISSIONED PORTRAITS TAKE APPROX. 3 WEEKS (IN TOTAL) FOR ME TO COMPLETE & SHIP TO YOU.

~~~~~~~~~~~~~~~~~~~~~~~~~~~~~~~~~~~~~~~~~~~~~~~~~~~~~~

More about my commissioned portraits:

When doing a pet portrait, my goal is to create a true likeness of your dog, cat, horse, (or other pet), that is in the photo. I enhance the colors & textures, as well as the natural beauty...so that I'm am not just creating an exact copy of what is in the image. I want to give you the buyer, a portrait that has a more lifelike appearance of your much-loved furry family member, and one that is also a unique piece of art. After all, you already have the photo, and you are most likely not looking for the same thing in a painting to hang on your wall.

~ Portraits also make wonderful gifts!

~ Your painting will be hand done in oil paint on canvas, and it will take approximately two to three weeks for me to complete. I want to mention also, that the quality of your photograph will translate into how fine the quality of the subject will be when it is finished, so I really want to work with you to help you find the right one. I want you to be absolutely ecstatic and completely satisfied with the look of your finished painting.