Custom Commissioned Oil Painting ~ Dog Rascal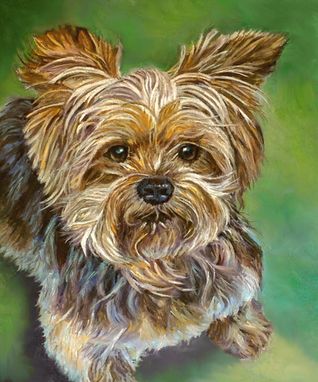 This oil on canvas portrait of "Rascal", is an EXAMPLE portrait. (Not for sale). My paintings are all hand done using oil paint on canvas...not DIGITAL.

~ This painting measures 14" x 18". (Actual size of the artwork)
~ My commissioned painting prices start at $150 (for a 9" x 12" with 1 subject) (Send me a direct message for prices of other sizes, or for one with more subjects)


More about this painting of "Rascal"...

Painted as one of two Christmas portraits for a client, this commission of an adorable Yorkshire Terrier was a joy to paint, with all of his long hair that was going in a million different directions. I also had a lot of fun playing with the colors that were reflected in his coat on his back and sides, which emerged when I enhanced the contrast and color saturation of the reference photo I used.

Custom commissioned portraits are available in sizes such as:
9" x 12:, 11" x 14", 12" x 16", 14" x 18", 16" x 20", 18" x 24", 24" x 36"
Contact me directly for pricing.

NEW COMMISSIONED PORTRAITS TAKE APPROX. 3 WEEKS (IN TOTAL) FOR ME TO COMPLETE & SHIP TO YOU.

~~~~~~~~~~~~~~~~~~~~~~~~~~~~~~~~~~~~~~~~~~~~~~~~~~~~~~

More about my COMMISSIONED PORTRAITS:

When doing a pet portrait, my goal is to create a true likeness of your dog, cat, horse, (or other type) that is in the photo, and to enhance the colors and textures, as well as the natural beauty...so that I'm am not just creating an exact copy of the image I see. I want to give you the buyer, a portrait that has a more lifelike appearance of your much-loved furry family member, and one that is also a unique piece of art...after all, you already have the photo, and you are most likely not looking for the same thing in a painting to hang on your wall.

~ Portraits also make wonderful gifts!

~ Your painting will be hand done in oil paint on canvas, and it will take approximately two weeks for me to complete (and about a week before it is shipped to you). I want to mention also, that the quality of your photograph will translate into how fine the quality of the subject will be when it is finished, so I really want to work with you to help you find the right one. I want you to be absolutely ecstatic and completely satisfied with the look of your finished painting.