Completely Customized Quilted Mahogany And Book Matched Mahogany Extra Large Front Door And Surround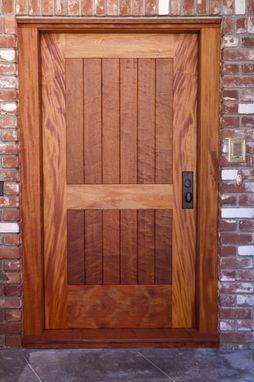 This is a unique custom made front door. Even more importantly is what you do not see. All stiles and rails are custom veneered with 1/4" thick book matched veneer that I personally cut and select from the same board. In between each stile and rail however, are multiple pieces of custom vertical grain old growth mahogany that have been cut and epoxied over night which results in a butcher block of mahogany that is them milled and veneered with all water prove adhesives. The finish is completely had applied over a 17 day period and wet sanded using a
three part method that is virtually water proof, and will never crack, peel, chip or flake like sprayed finishes can. The locks and hinges are Rocky Mountain brand. The threshold is custom sloped to the exact comfort angle the client requested. I construct the entire door, door jamb, threshold, install all locking mechanisms, complete the finish and nothing is outsourced.
A hidden weather strip is placed in a mortise (groove) under the bottom of the door rail which is activated only when the door closes, creating a perfect seal from the elements. Although this door faces the sun during morning hours, because of the finish and quality wood species used, its color has not faded. The price includes all of the above items.
Dimensions: Approximately 45" wide and 80" tall, 2" thick.