Contemporary Vases, Fused And Draped Glass Vase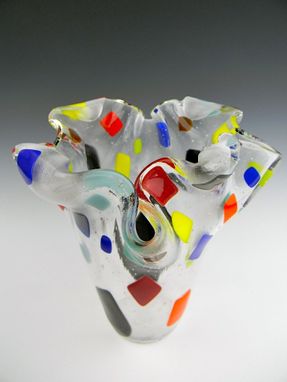 A Contemporary fused and draped clear glass vase, part of the studio's Carnival Collection Series of "one of a kind" works.

Each vase contains tiny air pockets called "Champagne Bubbles" that reflect as crystals adding a sparkle to this delightful decorator vase.

The Carnival Collection Series features transparent and iridescent rectangles of colorful glass elongated during the draping process The result, unpredictable but always unique and beautiful with each vase.

A welcome and eye catching addition to home or office, with fresh cut flowers or a special dried arrangement.
Dimensions: Each vase is about 8" in height with a 4-5" fluted top and 1 1/2" base.
All work is signed, engraved on the bottom of the vase with the artist's signature.