Contemporary Grandfather Clock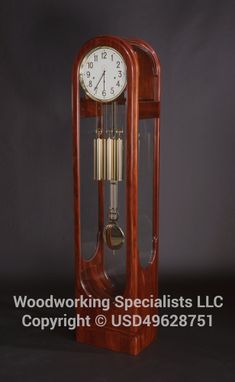 At six feet six inches tall, Bob's clock stands at the requisite height, imparting a sense of spatial magnitude to a room. The smooth contoured case is made of molded glass, ribbed at the sides and arched at the top, framed by exotic woods. It looks like a glass cathedral, suspended in time and space. It's the first thing you notice when you enter the room, drawing your eye to its elegance and beauty. This effect cannot be achieved by computerized saws and cookie-cutter machines; it takes a true artist using all his creative energies to mold wood and glass by hand into what seems like a living presence in a room. As you can see from the photo*, Robert Mann has created a new work of fine art, timeless in its vision and unique in its design.
All of our products are handmade
by expert makers.