Contemporary Landscape Stained Glass Window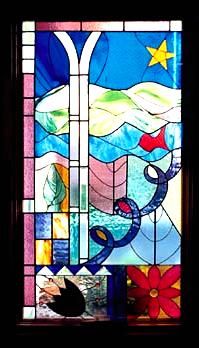 This contemporary piece was designed for a Homefest home. This window shows a collaboration of flowing images including a star, leaf, fish and flowers which were inspired by the fabrics in the family room decor.
The colors of glass were chosen to complement the room. Sunlight illuminates the window during the day while interior lighting highlights the window creating a backdrop for the patio at nighttime.
Dimensions: 3.5' W x 5' L