Contemporary Trestle Style Oak Table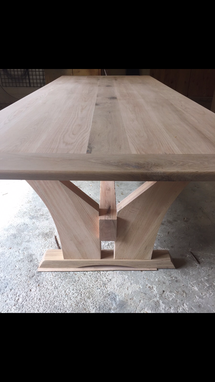 Created as the centerpiece of a large, vaulted dining room (accompanied by ten bespoke chairs), this example was designed to evoke the sweeping open-plan lines of its surrounding modern architecture, and the ever-present proof of growth that pervades all of Nature. It has been one of my more complimented designs.

Six inch breadboard ends give a touch of tradition, as does the weighty central beam, but the overall aesthetic is still quite simple and very clean. It would fit into a variety of styles, but is perhaps best suited to the 'modern farmhouse'. Regrettably I have no further pictures of this design, but can easily produce detailed drawings.

This example was commissioned at 126" long and 48" wide, and could seat ten to twelve people, but it can be customized to any preferred size. My standard dining table height is 30".

It is shown here UNFINISHED in Red Oak. I am able to source any native hardwood and can finish to any preferred style. I use sustainable products as standard, and always strive to offer the wood species that best fits your aesthetic, rather than altering the wood itself with chemical finishes.