Copper Camisole With Beads, Lace, Ruffles And Sequins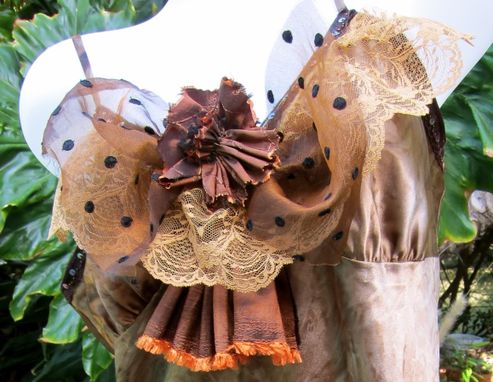 Such a gorgeous color, and I loved the marbleized print on the fabric. It already had a tiny bit of beaded ribbon and sequin trim at the neckline. But this like-new camisole was just too plain. So I added floral lace ruffles at the neckline and bottom, plus a silk copper and black polka-dotted bow, and flower and partial ruffle in a coppery bronze embroidered fabric.

Size is XL, which measures 40" across the top and 23" long. Straps are adjustable. The cami fabric is polyester, and the laces are polyester and cotton -- all washable, but I recommend gentle hand-washing or using the "delicate" cycle on the washing machine and laundering this in a protective cover or pillow case, to keep it looking its best.

This is a one of a kind piece, but if you would like something along these lines, but in a different color theme, fabric or size, just email me. I have oodles of gorgeous fabric, just waiting to make something special! Price varies depending on the type of material used.