Cosplay Hooded Capelet With Cat Ears 18" Long With Gold Metal Frog Closure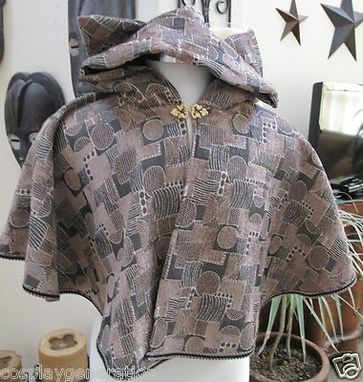 Cosplay upholstery rayon chenille hooded capelet with cat ears.
Capelet length = 18 inches
Neckline = 22 inches
Hood = 14 inches
Fur ears = 4 inches
Materials:

Soft upholstery rayon chenille patterned fabric

1 fashion metal sew on frog,
no lining
1/2 inch green rayon fancy trim around the hem of the capelet.

The capelet is not lined. all edges are overlocked to create clean edges and keep them from fraying.
Garment made by Eva Vanecek for Cosplay Generation with pride in the USA.
Please ask questions beofre purchase.
Need a diferent color, length or style please ask. I do custom orders.
Item in stock ready to ship in one day after payment has been received.