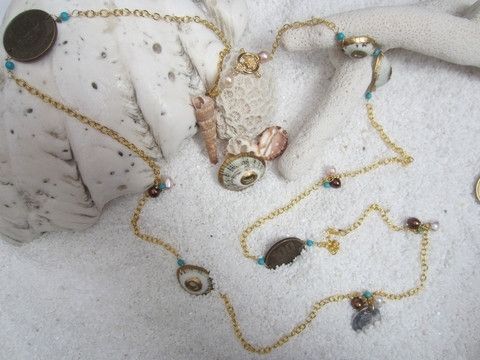 The coastal traveler
Gold chain surrounds you like the setting sun. Chocolate freshwater pearls, hues of the rocks and trees along the sandy shores. Light pink freshwater pearls, the spray and foam of the tides. Accents of turquoise the open sky above your head. Hand painted shells with gold from Nasaro beach and colones charms showing the crest of a proud country.

24 karat gold plated toggle clasp with flower details. Pearl and turquoise drops move to the rhythm of your body.

Necklace is approx 51" long & can be worn single as a 25 1/2" drop, doubled drop, or tripled as a choker, also this piece can be multi wrapped around the wrist as a charm bracelet.

These hand made pieces use all natural stones & metals, each piece will vary slightly. Each shell charm will be different, special and unique. All shells were found at low tide in the surf by the designer.