Croc Ruffle Jacket. Production Piece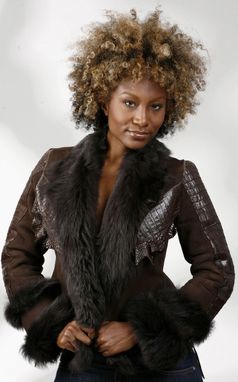 Chocolate brown sheared merino lambskin jacket.
Cayman detailing on the front, sleeve and back.
Raw edges of the cayman are integrated into this sharp short jacket.
It can be done in black and brown.
Upon request it can be done on deerskin leather instead of shearling. This custom jacket is feminine with an edge - makes a great motorcycle jacket.

Dimensions: Can be ordered in P,S,M,L,XL