Cupcake Soap - Pristine Peppermint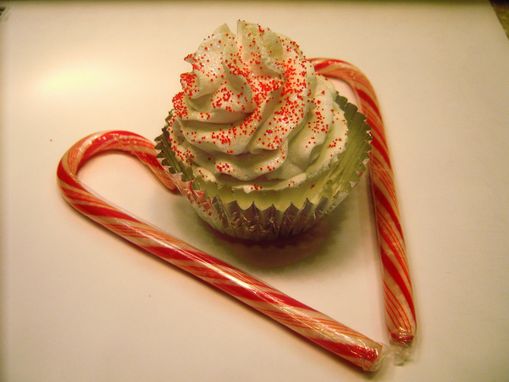 This adorable 2.5 oz Cupcake Soap in Pristine Peppermint will wake up your senses! This pure, crisp peppermint scent is fresh and clean as (dare we say) the new fallen snow. Peppermint is not just for Christmas but all year round. We especially love the cooling effect in the middle of summer. The soap features skin loving olive oil, jojoba oil and shea butter and is colored with mineral colorants. The "frosting"* sparkles with beautiful cosmetic grade glitter and red jojoba beads.

Our soaps are always paraben, phthalate, SLS and SLES free. In addition, this soap is vegan friendly and gluten free. MADE IN THE USA.

Current inventory may or may not include Red Jojoba Beads. Decorator's choice.

Ingredients: Saponified Oils of Palm, Coconut, Soybean, Water, Shea Butter, Olive Oil and Jojoba Oil. Sodium Lactate, Skin-Safe Mineral Colorants and Fragrance. Embellishment: Jojoba Beads and Skin-Safe Cosmetic Glitter.

WARNING: SOME INDIVIDUALS WITH NUT ALLERGIES MAY HAVE A REACTION TO SHEA BUTTER. NOT FOR FACIAL USE. NOT EDIBLE. SUPERVISE CHILDREN TO ENSURE THEY DO NOT INGEST. DUE TO THE VANILLIN CONTENT IN MANY OF OUR FRAGRANCES YOUR SOAP MAY FADE OR TURN BROWN OVER TIME. THIS IN NO WAY AFFECTS THE QUALITY OF YOUR SOAP AND IS NOT CONSIDERED A DEFECT.

*The entire cupcake, base and "frosting", are soap.