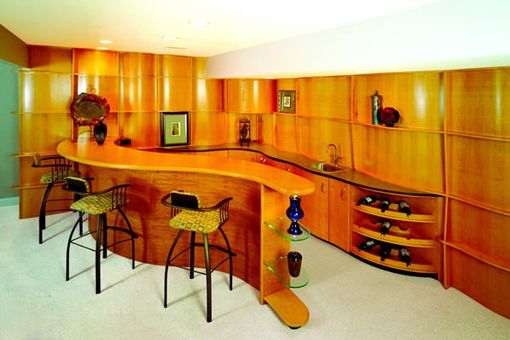 Materials:
Quarter-Sawn Maple
Quilted Maple
Curly Maple
Laminate

Finish: Stained to match client's sample, clear Italian conversion polyurethane, 35 Sheen.

Product Description: The curved maple bar is 12' long with a quilted maple front and a quarter-sawn maple bar top and back. Curly maple-edge detail embellishes the bar top. The work surface (not visible in this photo) is laminated with a 3mm edge, as is the back bar and stainless steel sink. A locking and curved liquor cabinet hides under the worksurface. The .50" glass shelves are firmly supported by cantilever design and secured inside a hidden compartment within the bar. Lighted shelving produces a soft, green halo highlighting displayed art in the evening.

Curved storage cabinets are quarter-sawn maple. Doors are a mix of curved, concave, or convex and provide storage for stereo components, microwave, DVDs, glasses, towels, and pullout garbage cans. A refrigerator is hidden behind one of the doors. A corner curved storage cabinet hides a TV behind maple tambour doors. Refrigerator door hinges were modified to accommodate the curved door and still maintain a .125" pivot point, pullout storage racks, and a curved wine bottle rack.

Walls are quarter-sawn maple with flat-sawn maple rails. We finished everything in our shop before installing it in the lower level of our client's home (Yes, we have a secret in finishing and bending wood without ruining the finish).
Dimensions: 19' x 15'