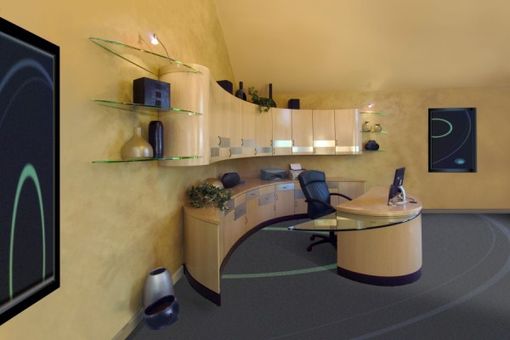 Lead Time : 4-8 Weeks

Designers: Joel Huguenard, YB Normal Designer & Craftsman and Ted Geers, Owner of YB Normal Custom Woodworking. Wall and floor artwork created by Aaron Warren, Designer & Craftsman at YB Normal Custom Woodworking

Materials:
Quarter-Sawn Maple Vertical Surface
Flat-Sawn Maple Interior
Birdseye Maple Work Surface and Self Edge
Glass Work Surface
Brushed Aluminum Metal Strips

Finish:
Italian conversion polyurethane, 35 Sheen.

Product Description:
Four box drawers, three file drawers, and sixteen doors provide ample storage in addition to adjustable shelving while curved doors and drawer fronts lend visual interest.
The lower unit has easily removable backing for quick access to wire management troughs. No wires are visible inside the storage areas or under the desk; instead, wires are directed under the credenza floorboard to the desk while power is directed through a separate chase from the data lines to prevent interference. Three grommets are included in the credenza's work surface and hidden behind electronics and decorative items at the client's request.
The glass section of the desk's work surface is .75" thick 42" long and firmly supported by cantilever design. Curved chassis offer ample legroom and a fully articulating keyboard tray while black base molding is added for visual interest.
The credenza has six .75" thick, 32" long glass shelving firmly supported by cantilever design and secured within a hidden compartment inside the upper storage cabinets. The lighted shelf ends produce a soft, green halo highlighting displayed art in the evening.
Brushed aluminum metal strips in the doors and drawers accent the natural maple finish. The entire unit is protected with our tough, commercial grade Italian-conversion urethane finish at a 35-sheen; however, the credenza and desk's work surfaces are buffed to a high-gloss finish.