Curvy Mirror Lacquered Neon Orange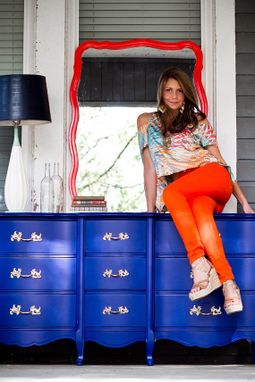 THIS ITEM IS NO LONGER AVAILABLE. HOWEVER, WE ARE HAPPY TO HELP YOU LOCATE AND REDESIGN A PIECE THAT IS JUST RIGHT FOR YOU!

Orange You Lovin's This Mirror?? This solid wood curvy mirror is extremely heavy. It has been painted Benjamin Moore's Tawny Day Lily and coated with clear enamel. Shown here turned vertically, but the mirror has been wired to hang horizontally.
Dimensions: The mirror measures 32" by 45.5".