Custom Artwork - Namesake - Based On Child's Name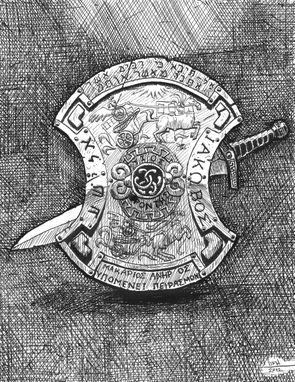 The customer wanted a piece of artwork based on his son's name that would express both his son's character and some of the aspirations that he had for his future.

The customer sent me some detailed emails with descriptions of his son's interests and activities, and his personality. I worked up several sketches, involving Greek and Hebrew lettering, Scriptures from the Old and New Testaments, and iconography that illustrated the traits that my customer was looking for. I sent the sketches to the customer, and he picked the direction he liked best. I worked the sketch into a final pencil drawing. When the customer approved that drawing, I inked the pencils, creating the final product.

Drawn on archival quality acid-free Bristol board, using the finest China Ink, this is a piece that will spark conversations for generations. I professionally mounted the piece to an acid-free mat, and framed it. The customer now has it hanging in his office, where it reminds him of his son every day.