Custom Artwork - Shulammite Woman - Drawn To Order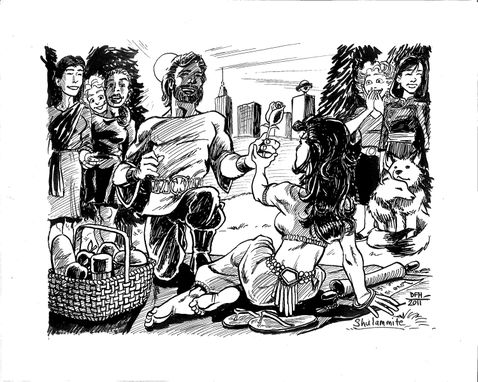 The customer wanted a piece of artwork that would enable her to visualize her self-worth, as she worked through a counseling situation. She loved the description in the Bible's Song of Solomon of the Shulammite Woman, beloved by the king.

For this piece, i worked up a great many sketches, focusing on how beloved the Shulammite was by her king, incorporating imagery from throughout the Song of Solomon. The customer gave a great deal of feedback, until a final pencil sketch was approved, and I was given the green light to proceed to a final inked version. Unfortunately, after the project was completed, the customer was unable to complete the transaction, due to a financial setback. I am still very proud of the work I put in to this project, and the final result speaks for itself.

Romantic, spiritual, vivid and alluring, this piece was crafted with acid-free, archival-quality materials for generations of beauty.