Custom Birdseye Maple Vanities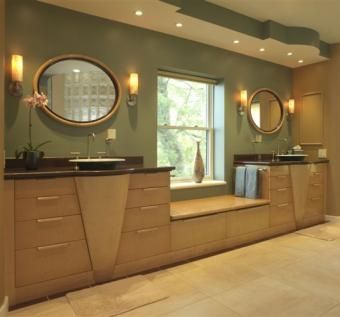 Created for a 2010 NARI Regional Award-winning penthouse bath remodel, this pair of built-in vanities would normally be a one-of-a-kind installation. In this case, though, we were asked to copy the original vanities in the home, down to the hand-shaped integral wooden pulls on the drawer fronts. All surfaces on this set of cabinetry are Birdseye Maple veneer and solid Birdseye, with some Wenge accents added in for a little spice. We vacuum press all of our veneer in-house, so we can pick and choose the best book-matched flitches. Two of the bigger challenges on this set were the elliptical Birdseye Maple and Wenge mirror frames, and the tapered cones on the front of each vanity. There is no CNC router to be found in our shop; each mirror frame was cut out using a router jig, and the pieces were joined using solid Maple splines. The tapered cones are actually sections of a tube, and we made these forms with a complex jig for the table saw, then we vacuum-pressed some beautiful Birdseye veneer around the form. A toned high-gloss finish tops it all off. We could imagine many variations on this theme for your next modern bath remodel.
Dimensions: Each vanity approx. 54" wide and 24" deep and 33" high.