Hand Made Belt Buckles, Forged And Fabricated Steel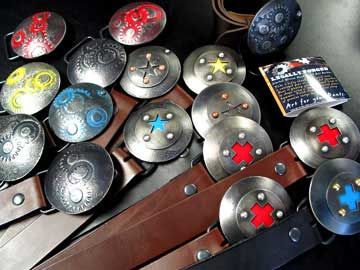 The Forged Series of Buckles are the most affordable and most produced line of products that I make here in the studio.

This line contains the X-buckle, the Star-Buckle, the Cross-Buckles and I-Gear line of products. Bright, colorful and brash with plenty of attitude to go around.They feature heavy forged steel back plates. Stainless, copper and brass rivets are hand-set through punched and drilled holes.

These are guaranteed to set off the airport metal detector. If you are shy about strip searches, these buckles may not be for you.

These buckles are hand-made, assembled and finished here in our studio.