Custom Buer Sigil Pendant/Talisman.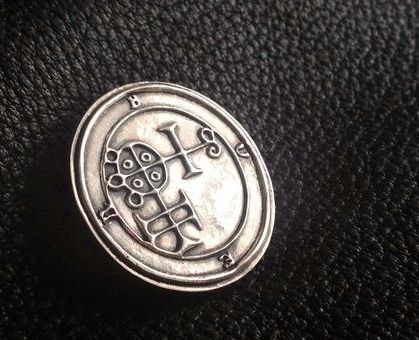 This was a custom project for a customer who wanted this particular image made into a medallion in fine silver. I made a custom stamp, and used that to create a stamp that was used to imprint the design into silver clay. Once it was fired, it become solid silver, and a lovely ancient looking piece of jewelry.

The cost is divided into two parts - making the stamp, which can range from 45 to 75 dollars depending on the work needed to prepare an image for stampmaking.

The cost of the pendant would run from about 155.00 for a one inch pendant, to about 255.00 for a one and one half inch piece. This project did not include a chain
All of our products are handmade
by expert makers.
Twigg's review

• Jan 13th 2014

The pendant came out Amazing! It's more than I could have hoped for. Price was excellent, communication was friendly, helpful and informative. Very professional and down to earth. The detail on the pendant was outstanding! This will surely be a treasure to hang onto for ages to come. Thank you!