Custom Coffee Table For A Palm Beach, Fl Residence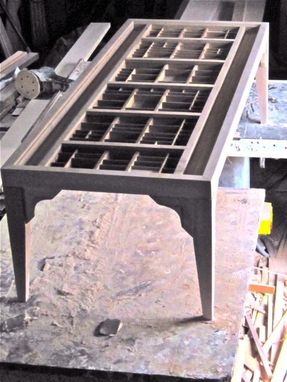 Seen here is a recent commission for a coffee table.
It's dimensions are 24" x 60" and 18" high. The owner requested a light cream color. It displays her self collected beach glass and keepsakes, primarily from the coast. The printer's type drawers have been altered to create more large spaces. The Long channels are now filled with beach glass. The glass insert was shipped with the top. The prefitted legs are easily attached.
It is suggested that you obtain the glass locally. A template or pattern is included. This saves on packing and shipping.