Custom Corner Entertainment Center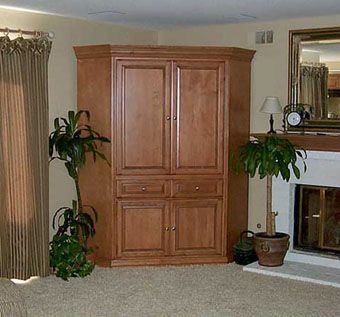 With odd shaped rooms or difficult room layouts sometimes the corner is the best place for the television. When building custom corner units two types of designs are available; customized corner units with wings and standardized units angled in the corner. Each of these two approaches have pros and cons. Customized corner units with wings (as shown in this photograph) are built specifically for use in the corner. The special way the front of the cabinet is designed to wrap back and meet up with the two side walls a very clean and built-in look is achieved. While this provides a fantastic look it is a little more expensive to produce and can only be used in a corner. A good alternative to consider is building a more standardized method of construction (such as an armoire) and simply angling the unit in the corner. This approach again provides a stunning look, is less expensive to produce, and can always be moved to a different area whether that area is a corner or a flat wall. When building in a corner, space is at a premium. You should always measure how much space you have available from the corner down each wall (until you hit an obstruction or don't want to go any farther). It is most common to build custom corner units for TVs in the 32" - 42" range. However, larger units can be built assuming your corner is large enough. The corner cabinet shown in this photograph was designed to accommodate a 34" wide screen TV along with several components. The electronic components are concealed behind the wood doors but are fully operational through the use of a remote control repeater (you do not have to open the doors to control the electronics). The furniture is constructed in birch wood, finished in a custom color (to match the mantle), and utilized raised panel doors.
Dimensions: The dimensions of this custom corner cabinet are approximately: 44 1/2" Wide (along the face) x 84" High x 24" Deep. However, please be aware we will customize the dimensions of your corner cabinet to best fit your TV and your room.