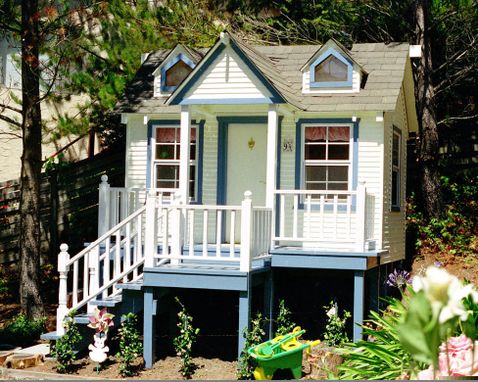 Uncle Greg's playhouses have been featured nationwide in Better Homes and Gardens, and throughout California in the San Jose Mercury and Contra Costa Times newspapers as well as Coast magazine.

The "bones" of our playhouses consists of kiln dried 2"x 4" Douglas fir studs. Additionally, no other playhouse builder offers sheer wall made of ½ " plywood which is underneath redwood siding as we do. As a result, our playhouses rival "real" luxury houses in the quality of construction.

As you can see, unlike many playhouses that are shipped in a box, our custom crafted playhouses are actually "real" houses in miniature. They are completed on-site and priced "turn-key". Unlike many playhouses on the market, our playhouses boast as standard features a finished interior of knotty pine, hardwood laminate flooring, fully operational windows made of tempered safety glass with screens, doors with designer locks and a brass glass inlay. Roofing is 30 year composition shingle over 30# felt over 5/8" plywood.

Our business is about children. We recognize the need for medical services for under privileged children and put our money where our mouth is. Consequently, we will match your contribution to Children's Hospital of Oakland Hematology/Oncology Department, up to $500 when you purchase a playhouse.

Given that our playhouses are handcrafted and not manufactured for the masses, their limited production and availability secures your investment.

Dimensions: !0' across by 6' deep excluding porch and decking.