Custom Laser Engraved And Cut Lace Locks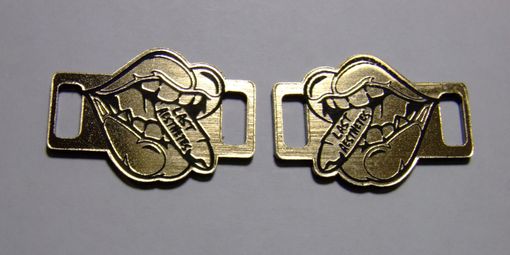 Custom laser engraved and laser cut Lace Locks for tennis shoes. Material used is flexible two part two color acrylic 1/16 inch thick. The surface color is engraved through to reveal the second base color. Multiple color combinations are available.

Lace Locks, designed with your own motto, are strung through the bottom lace on your shoes for decorative purposes. Similar in fashion to the age old penny loafer.
There is a 30 dollar setup fee per design and then EACH ADDITIONAL Lace Lock pair cost 3.00 USD.
All of our products are handmade
by expert makers.
Sueah P.'s review

• Sep 25th 2020

Amazing professional customer service!!! Replied to all my questions very quickly, and the lace locks came out beautifully!

Bart T.'s review

• Jan 10th 2019

Awesome work. Great detail in product! Will definitely be ordering again soon!! Thank you so much!!

Clyde D.'s review

• Nov 20th 2017

Quick. Simple. Awesome.