Custom Engraved Disc Keychain Or Pendant - Black Anodized Aluminum, Ready In A Week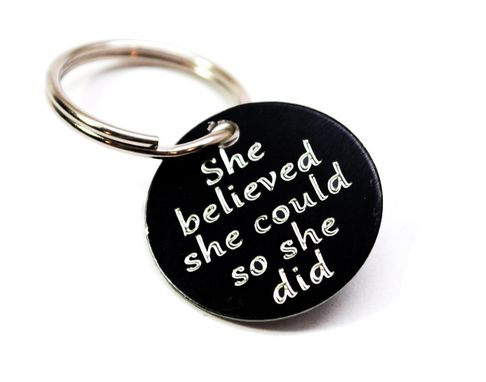 A 1" round, black anodized aluminum key chain, engraved with any message you like, of up to 30 characters and spaces (please be sure to count spaces). Designs can be engraved in addition to or instead of text; if a design is added, the maximum number of characters will be lower (exact number depends on the design requested).

If you're not sure whether your custom quote/design will fit, please contact me; I have many, many more styles and sizes available in a wide range of materials. If you want sometimes besides just text, and know what image you would like but don't have a good quality, high-res image file you can send, please choose from one of the available design options. Even very simple designs will incur an additional fee if I have to create the file, because that takes significantly longer than text-only pieces. If you are unsure whether your design counts as 'simple' or 'complex', please contact me before ordering. A good rule of thumb is to imagine asking a 1st grader to draw it. If they wouldn't be able to come up with something similar, it's complex. ; ) (an example of a 'simple' design is a heart, a cross, a pawprint, etc).

Please note that I may charge a fee above what is shown if your design is unusually complex and has to be created from scratch.

This disc is made from anodized aluminum, so the color is on the front and back, but the sides are silver colored. It is 1" around and comes on a silver colored split ring; if you intend to use it as a pendant, let me know and I'll put in on a smaller split ring. These are perfect to add to an existing key chain, or attach it to the zipper on your purse, backpack, jacket or whatever.

Unlike many of my items, this key chain has been engraved rather than hand stamped. Engraving is more uniform in appearance than stamping but the letters aren't as bold. Engraving on surfaces such as anodized aluminum helps the image to stand out more clearly. I use a rotary engraver, enabling me to engrave any type of metal and many other materials; unlike laser engraving, which is more of a 'surface treatment', rotary engraving cuts fairly deeply into the surface and has a more traditional 'engraved' look.
All of our products are handmade
by expert makers.