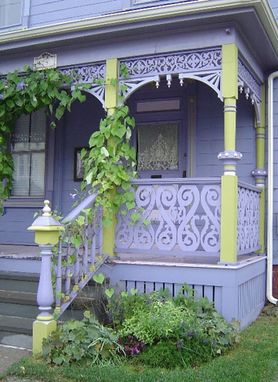 The designs on this Boston Front Porch were copied from a photograph of the owner's grandmother's house in Russia taken in 1903. The craftsmen at Blue Ox copied the designs and scaled them to create the balustrade and spandrells. The paper doll balasters and fret-sawn spandrell designs were some of the most elaborate designs we have encountered. The homeowner was very happy to recreate a bit of her beloved home country here in her new country. It was an honor for the craftsmen at Blue Ox to connect with the Russian craftsmen of yesterday in such an intimate way.

Since the grandmother's house in Russia did not feature columns, the craftsmen at Blue Ox designed the custom columns to tie in and complement the Russian designs.

Contact artisan for further details.