Custom Hand-Built Stone And Steel Bridge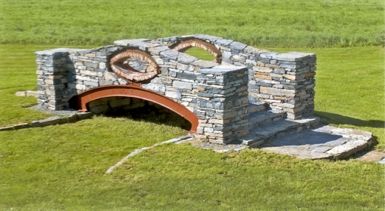 All of the natural Vermont stone is dry laid and built around a found object of brick, mortared into architectural form. These were the roof of a flue from an abandoned smoke stack. This bridge was built for display, and can be purchased. Willing to discuss price and delivery options.
Dimensions: Main support structure is comprised of two 9 inch tall by 1 foot beams. The horizontal I beams support the deck with a span of 10 feet and an overall length of 18 feet. The walls are approximately 3 feet tall.