Custom Hardwood Trays Or Special Bowls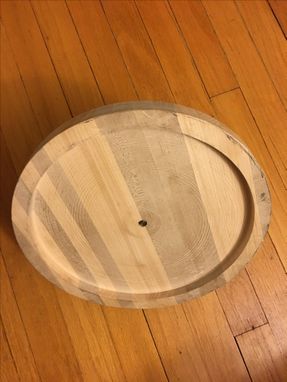 The item was made for a women to use in Florida for snack purposes. The round tray is made from maple and turned on our lathe to the correct depth nad bored to size. The size is 12" daimeter and approximately 1" thick. Not shown in the picture we made a stainless pin 6" long which was screwed to the back side.

We can make any design of bowl or special snack trays for spacial purposed. Any variety of woods to choose from and we can section glue the wood as seen in the picture ( multiple pieces glued together for a more visual appeal) milled and fine sanded.
All of our products are handmade
by expert makers.
Deb's review

• Jan 9th 2020

Once again, Mark did not disappoint. The tray is perfect and arrived exactly when I requested.
Another quality project by a talented artisan.
I'll definitely used him again for future projects!