Custom Hula Hoop, Low Cost - Simple Wrap - Weighted, Collapsible, Travel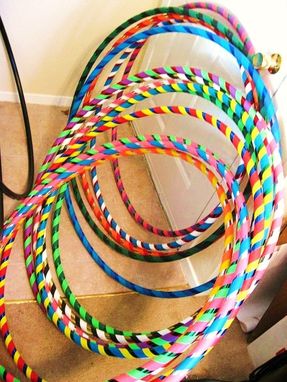 CUSTOM Hula Hoop, Low Cost - Simple Wrap - Weighted, Collapsible, Travel - Choose Your Colors

Express yourself on a budget! You want a beautiful, flashy, eye-catching hoop in your favorite colors, but you don't want to break the bank, either! I've got you covered.

The Simple Wrap hoop comes with TWO colors of grip tape and ONE deco tape of your choice (mirror, slick gloss, sequin or glitter)! Pick your favorite colors for a hoop that's uniquely you!

Select your grip tape options when checking out, and leave your choice of deco tape in the notes section before finalizing your order.

This listing is for ONE classic, beginner-sized adult hoop made of heavy, 3/4" tubing. It weighs just under 1.5 pounds (about .6 kilos). It stands 43" (109 cm) tall, but can be adjusted to fit you. If you do not know what size you want, I recommend starting with this size as it fits most beginner hoopers.

Hoop collapses infinity style for ease of travel (as in last picture). You can take this hoop with you on a plane, or save space in your car! Do not store your hoop collapsed as it may warp.

If you are DFW local and are able to pick up your hoop in person, enter the coupon code PICKUP for free shipping!

Please note: Hoops are made to order and some might require ordering special materials, which could extend the ship time to 1-2 weeks.