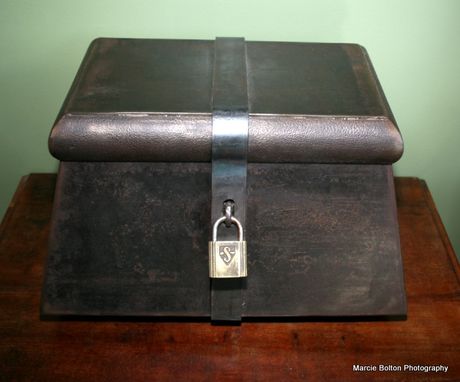 2058 -the year this forged-iron time capsule will be opened at the Town Hall Theatre in Middlebury, Vermont. Designed to hold time, this piece of iron art consists of an Apple i-pod, newspapers, a cell phone, maple syrup, and local restaurant menus upon other items. Each item was hand-picked to help educate people 48 years from now, about how life was in 2008.

From start to finish this project has been a collaboration between the theatre's director, Douglas Anderson, a local humanities high school class -for help deciding the contents of the time capsule, and finally Nop's Metalworks, for creating the forever vessel.

This artfully designed box made of steel and brass, is under lock and key in the bell tower, waiting patiently to become a part of history forever.
Dimensions: The time capsule measures approximately 14 inches X 12 inches x 15.