Custom Leather Checkbook Cover With Kneeling Cowboy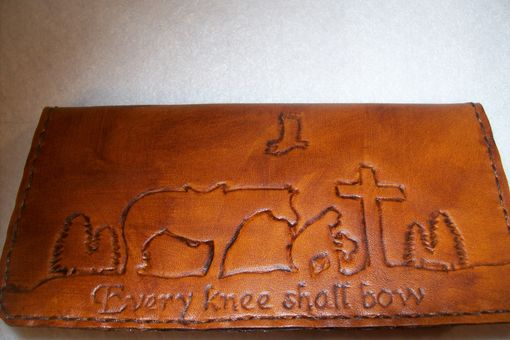 Our hand tooled leather checkbook cover has two slots, one for your check register and one for the checkbook. Like all of our hand tooled leather checkbooks, the hand tooled leather checkbook cover is made from full grain cow hide, fully hand tooled, and hand sewn. The Interior of the hand tooled leather checkbook cover is made from hand selected highest quality pig skin lining. Soft and supple - it is our artists choice.

The hand tooled checkbook cover measure 3 1/4" X 7" and is a bi-fold design.
All of our products are handmade
by expert makers.
Thomas Mus's review

• Mar 4th 2014

Wow ! What a beautiful finished product. The craftsmanship is outstanding. Kerry, the artwork you did, especially on the palm tree, looks fantastic. There is nothing not to like. The quality of the work, the heftiness of the leather, the stitching and color, are all absolutely perfect. This is so well made it looks like it could be passed down over time for several generations.
Thanks for keeping me updated of the process as it was being made. Another nice touch was the heavy, glossy, almost cardboard paper instructions you had printed out along with the item, that gives info on it's care and handling.
100 percent satisfied. You do very nice work. Fast delivery too.
Thanks Kerry.