Custom Leather Journal With Scalloped Edge In Weathered Color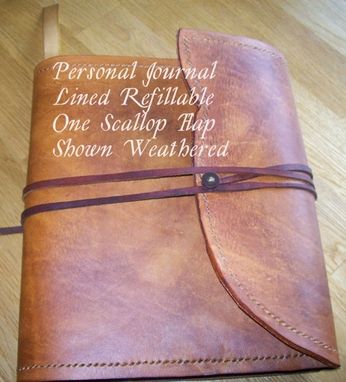 Our Hand Tooled Leather Journals are made with high quality leather. We hand bound all the pages together so that when opening it up and writing the pages lie flat at all times. We use acid free archival quality Arches (cotton lintner) paper. Each journal contains two hundred pages. You can chose from a permanently bound journal or a refillable journal. The journals come in two different sizes 5x6-1/2 or 6x9. Your choice of hand tooled design or personalization included. Makes a beautiful gift and lifelong keepsake!

Let us help you! Call us...our artists will personally assist you to ensure your new Hand tooled leather large journals is exactly the hand tooled leather product of your dreams.

Every hand tooled leather product from Kerry's Custom Leather offers the following options:
1. Personalization & Customization: Kerry's Custom Leather offers hand tooled personalization of all of our handmade leather accessories with your name or personal motto. We have a variety of lettering styles and fonts for you to choose from.
2. Artwork/Design Customization: If you would like artwork on your covers, please contact Kerry's Custom Leather to discuss your custom design or check out our previous work to see some of the designs we have available (more designs are added frequently).
3. Leather color: Our leather supplier supplies us with superior quality domestic 4-5 ounce (cow) leather hides that accept color exceptionally well (so that we can stain or dye the hide by request). This allows us to offer a wide range of colors, or custom colors (by request). The leather colors listed in our options are our "standard" colors. However, if you would like a color not listed below, simply contact us, as we can dye a leather hide to match most color requests.
All of our products are handmade
by expert makers.
Megan P.'s review

• Май 18th 2016

The journal turned out beautifully, but the best part of the whole experience was dealing with Kerry herself. She went above and beyond to fully understand my vision for what I wanted, and then she sent picture updates of the project as it was being made. When a hiccup at my post office made me fear that my package had gotten lost forever, she was ready to send me a brand new one if the journal wasn't found, even though it wasn't her fault the package had gotten lost in the first place. Throughout every step of the process, she demonstrated to me that she truly cares about her work and about her customers. I'm so glad that I stumbled upon this site... not only because I was able to get the perfect gift for my loved one, but also because it helps connect people to artisans like Kerry who know what it means to craft unique, well-made, beautiful things. That type of quality and service is hard to find in the throw-away culture of today.

Jeff K.'s review

• Фев 24th 2015

Kerry is a great partner in realizing your dream leather journal. The communication was excellent, and the final product even better. The craftsmanship was as advertised. I couldn't be happier.

Angela's review

• Авг 3rd 2013

I cannot say enough good things about this experience. The product exceeded my expectations. Thanks so much!