Custom Made Curtains And Drapes - Labor Only -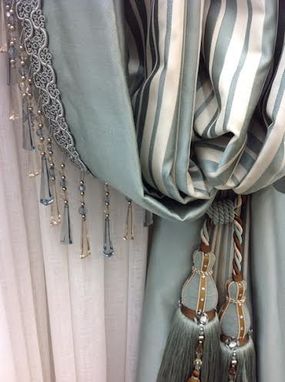 Custom Made Window Curtains- Made with Customer's Own Fabric! - Flat, French Pleat, Pinch Pleat and Inverted Pleat
1 Pair
Up to 120" Long
Lined, Blind Stitched and Weighted
Price Includes Labor and Lining
IF you more pairs, let me know.

This listing is of one pair (2 single panels) of custom made French Pleat, Flat, Pinch Pleat or Inverted Pleat, you choose. The price is for one width wide fabric for each panel. These panels will fit a window up to 44" wide. We can seam fabric together to make for larger window. Please, let us know the dimension of your window. Feel free to contact if you need drapes longer than 120". They will have a 3" hem that will be blind stitched. It will be hand stitched and weighted. We can add trim for an extra charge.

As a general rule, for proper fullness panels should measure 2-3 times the width of your window/opening.