Custom Made Damascus Topsteel Survivor Set 10" Tracker 12" Axe Olive Wood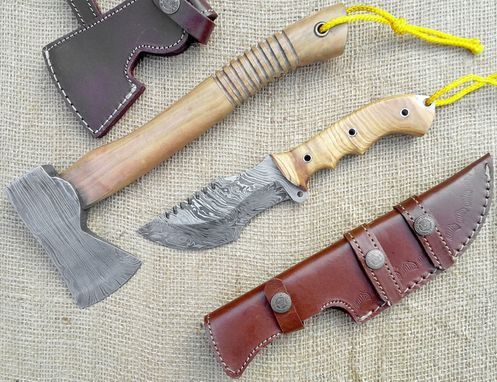 Axe Size,
Total Length :- 14 in
Handle Length :- 11.5 in
Blade Length :- 4.5 in

Tracker Size,
Total Length :- 12 in
Handle length :- 5 in
Blade Length :- 7 in

Pattern : Twist
Handle Material : Olive Wood
Accessories : Lather Sheaths

QUALITY STANDARDS
Our Damascus blades are made from high quality non-stainless steels which rival or exceed any Damascus blade made from the 10 series with 15N20. Our Damascus combination has taken years to perfect and has been tested under a variety of application which will offer professional performance in categories of toughness, strength (lateral stress) and edge honing and holding ability. In a 5 spot Rockwell test our blades will average near or close to 58 which offers a perfect balances between its toughness and strength.Our blades due to carbon content need to be regularly treated with wax and/or 3 in 1 oil to maintain its superior quality.


Questions
If you have any question feel free to send us message we aim to answer all questions within 12 hours

PRECAUTIONS:
Our Tools are very sharp so open and use them very carefully We are not responsible for any injuries associated with the use of our tools


Tips to Care knife:

1. NEVER STORE YOUR KNIFE FOR LONG TIME IN LEATHER SHEATH.
2. LEATHER CAN ABSORB WATER, WHICH WILL RUST THE KNIFE.
3. ALWAYS CLEAN THE BLADE AFTER USING WITH OIL OR WAX.