Custom Made Gothic Revival Necklace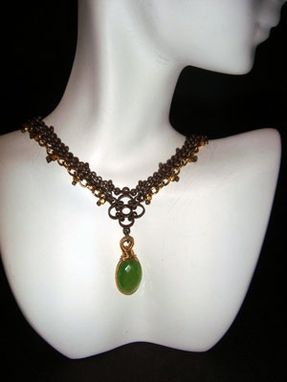 I bought and sold Angique Jewelry for many years. I loved different time periods in history.... in particular I loved the early Elizabethan....Gothic........ renaissance pieces. They are visually stong and rich in color and texture. This necklace is my version of a court jewel worn by ROYALTY to show their power and wealth.
In this piece I have used three different chains held together by handmade rivots. Two of the chains are sterling silver that have been oxidized (chemically darkened surface). The third chain is 14k gold fill. The green stone with the hand made bezel is a natural stone called Chalcedony. I have attatched a modern gold plate herrigbone chain to the back of this necklace. I did this for the dramatic visual contrast; and, also to hold the necklace comfortably in place on the back of the neck. If you want to wear a Regal Dramatic piece of jewelry......this is for you.
Dimensions: 20 inches long including the front pendant. The front pendant measures 2 plus inches.

The three chains measure 3/8 inches wide.
The gold plate Harringbone is 3/16 wide.
The stones measures just under one inch not including the bezel.