Custom Nautical Snug-As-A-Bug Bed Set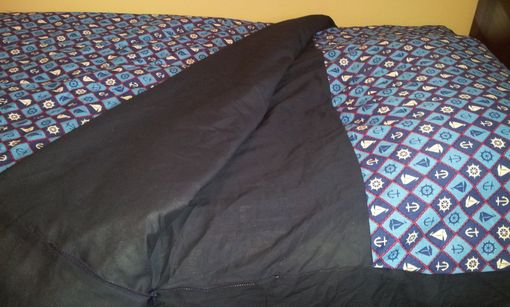 All children are differant in their own unique ways, including their sleep prefrences. This special handmade custom bedding works for all! Whether your little one tosses and turns at night, resulting in constantly falling out of bed!), or they are woken during the night due to their feet becoming uncovered, or maybe they love the feeling of being freshly tucked in bed but get restless when their blankets get tangled up or fall off of them entirely! However your little one sleeps, this design will fit their needs!

The set starts with a fitted sheet that is specially designed with an extra large section that wraps under the mattress halfway to prevent the sheet from ever slipping off. The pillowcase is then sewn into the fitted sheet to prevent the pillow from slipping off of the bed. This design also gives you the peace of mind knowing the pillow will never end up on top of your tot. The best part of all, there are two zippers, one on either side of the mattress, that work to attach the duvet cover. These zippers work to keep the duvet cover in place but is easily removable for washing and allowing your little one to climb out. These zippers also work to keep the duvet cover from ever slipping up over you little one but keep them warm all night even as they roll back and forth!

Above are some pictures of ones I made recently for a set of twins. They woke in the night due to their feet constantly getting cold at night because their blankets would slide off. As well, as they rolled around they would become uncovered!

For a standard set like the one shown (a solid color fitted sheet, a duvet with the matching solid color on one side and a pattern of your choosing on the other with a matching pillowcase) for a toddler bed or a converted crib with the crib mattress the price is $145. These can be made for a twin, single or double bed as well and if this is something you're looking for then I can figure out the price accordingly. If you would prefer a softer fabric such as flanel cotton or organic cotton then the price will change according to fabric price.
All of our products are handmade
by expert makers.